Product Feature:
* Hd scanning, automatic focus
Adopt high quality 20 mega HD CMOS, owns auto-focus function, imaging up to professional standard.
* Green environmental, low carbon energy saving.
Adopt USB connect with computer, no need extra power-supply and scan high quality image scan documents.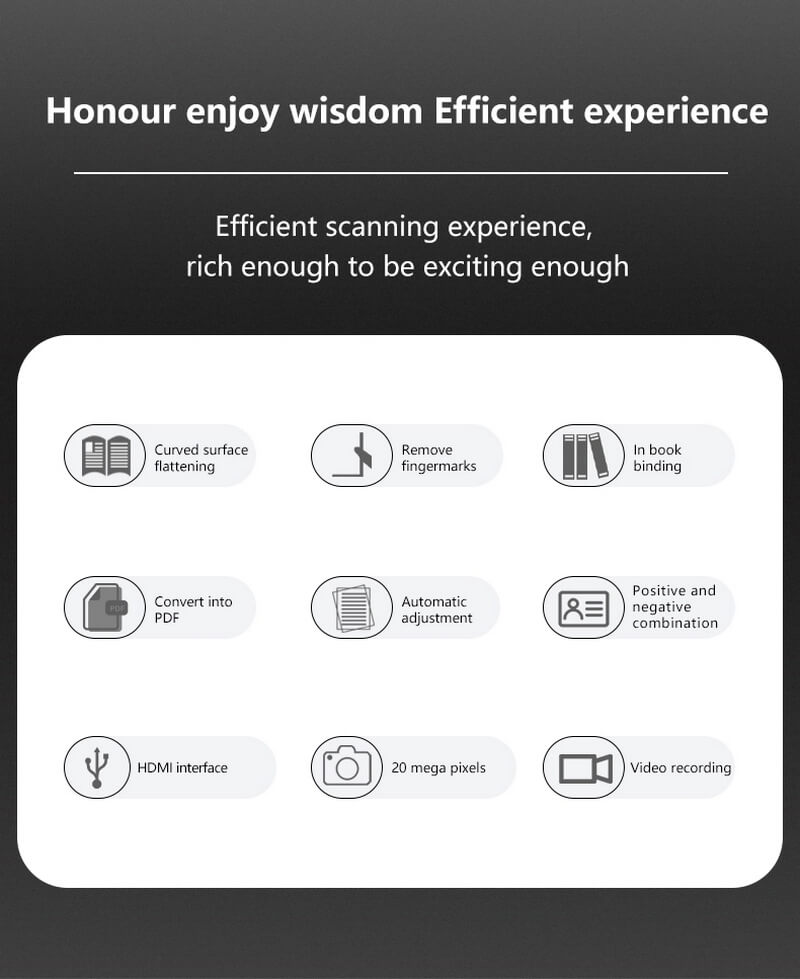 * Speedy scan, one-click finished click the scan button with the mouse, one-click to finish scan, just need one second.
* High resolution scanner
Scan documents, data, bills, certificates, books, real objects etc.
* Timing shooting, fast copying
setting the shooting interval time, automatic shoot by setting the software, fast scanning.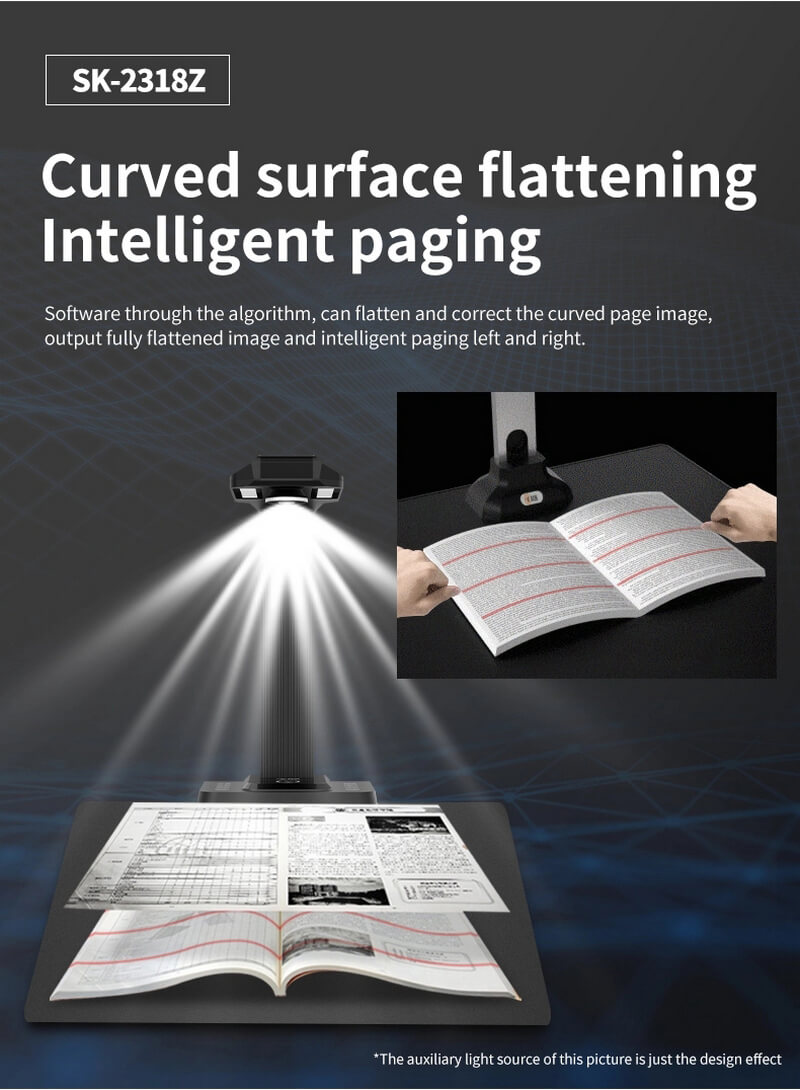 * Multi-language for the software
16 languages: English, German, French, Russian, Italian, Spanish, Arabic, Portuguese, Turkish, Japanese, Korean, Thai,
Vietnamese, Malay, Traditional Chinese, Simplified Chinese
* Automatically flattening curved book page technology.
* HDMI video HD output.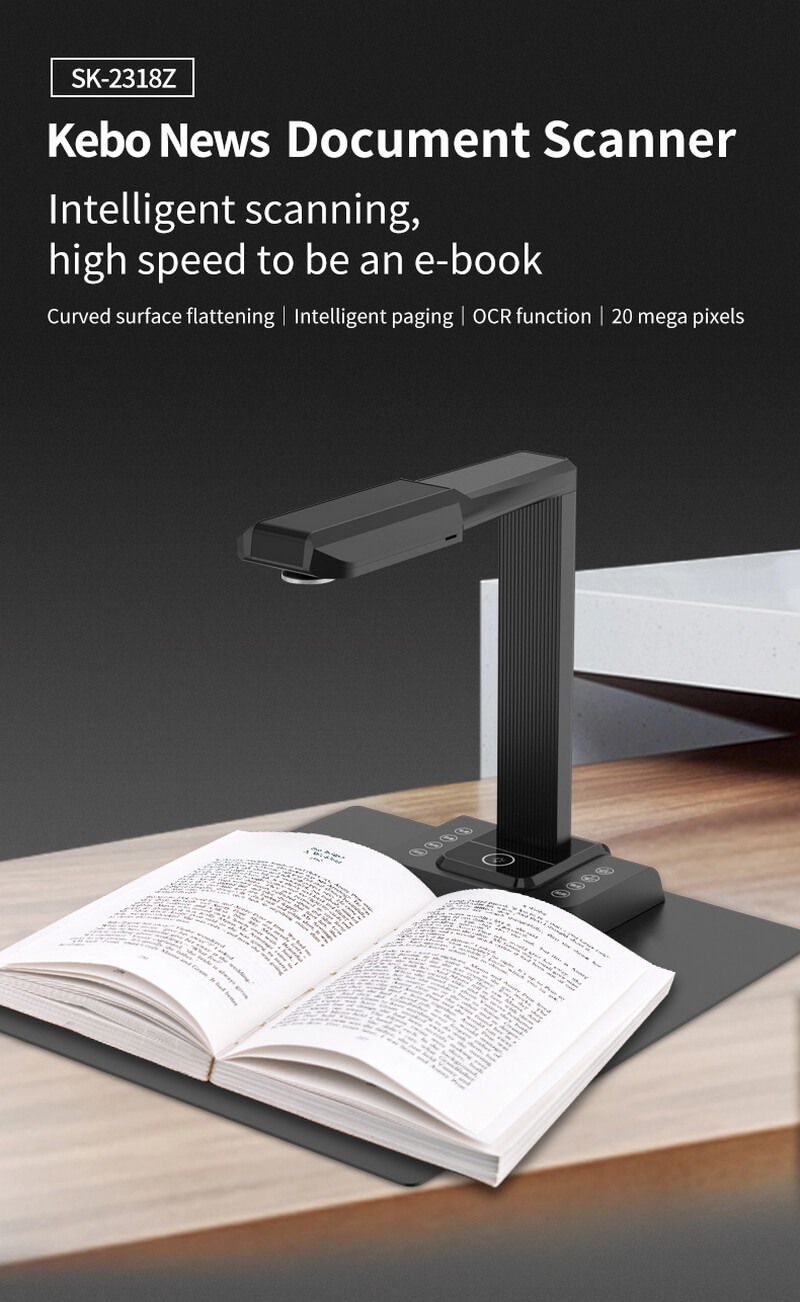 Model name
2318Z
Scanning speed
Less than 1 second
Resolution
5160*3870 (20 Mega pixels)
Scanning size
A3, A4, A5, A6, business card/ ID card
Image color
24bit
Scanning medium
All kinds of documents, documents, books, 3D objects, pictures, photos, magazines, etc
Operating System
Windows 2003/XP/Vista SP1/WIN 7/WIN 8/WIN10, etc.
Functions
with Intelligent trimming correction, Auto focus, Heads and tails combination, Barcode recognition, QR code reading, Stamp tool
(electronic signature), watermark, PDF, Video and OCR recognizing functions, etc.
Type of interface
USB, HD MI
Video Format
MP4, AVI
Image Control
Brightness adjustment, exposure length adjustment, sharpness adjustment, color adjustment, gain control
Light Source
Natural light and LED light
Image Format
JPEG, GIF, BMP, TIF, PDF, etc.
Scan Mode
Color, grayscale, black and white, and removing the background, flattening curved book page, etc
Base
Soft mat
Driver
Driver free, directly using video device by connecting the USB interface